A massive new riverfront development in downtown New Orleans has received formal approval to move forward, following years of haggling over how the roughly 45-acre tract of publicly-owned real estate controlled by the Ernest N. Morial Convention Center would be put to use.
Developers of the neighborhood, known as the River District, secured the votes they needed from the Convention Center's board members on Wednesday by offering to increase the number of affordable-housing units and providing more details on a long-promised Civil Rights museum.
"It is an exciting day for many reasons and a major milestone for this project," said Michael Sawaya, the Convention Center's president and general manager. He has been negotiating for nearly a year-and-a-half with the developer consortium — the River District Neighborhood Investors — over their investment commitments and terms to lease the state-owned land, which is valued at about $250 million.
A long road
The Convention Center has owned the acreage that sits along its upriver edge for about 20 years and has been trying to develop it in one form or another for nearly that long.
The vision approved last year, when RDNI was chosen as master developer for the project, was to build an entertainment-focused neighborhood that would create another destination for visitors besides the French Quarter.
As well as the residential component, RDNI has promised to build about 350,000 square feet of office space, 115,000 square feet of retail space (shops, restaurants), and entertainment and cultural venues over the next decade in an effort to create a whole new city district.
"This is what the city needs and exactly the project we ought to be doing right now," said Louis Lauricella, the local developer who is leading the RDNI consortium.
Despite many hurdles yet to be overcome before building can get underway, including environmental approvals, infrastructure investment to improve roads, and agreements with City Hall, Lauricella said he's confident the huge project will be completed.
"This project is going to get done, it is just that simple," he told the board.
Lauricella and a separate group of investors last year bought the old Market Street Power Plant and adjacent acres, where they plan to build a boutique hotel, office and retail space, as well as an entertainment venue.
That deal was cited by the board as helping RDNI secure the convention center master development contract by demonstrating their commitment to developing the whole area upriver from the Crescent City Connection, which has been barren for decades.
Indeed, Lauricella said on Wednesday that the potential convention center acreage that might be developed has expanded to include more than 10 acres directly in front of the upriver end of the convention center.
"Something to be proud of"
"I can tell you that stuff we're working on (for those additional acres) will be something that we'll all be proud of," Lauricella told the board. He said confidentiality agreements prevented him from going into detail, but already Sawaya has confirmed that they have held talks with the United Soccer League about building a stadium there for a New Orleans soccer franchise that is due to start playing by 2025.
The presentation on Wednesday said those acres might see "a potential hotel" as well as a sports or entertainment venue with parking garage big enough to accommodate patrons.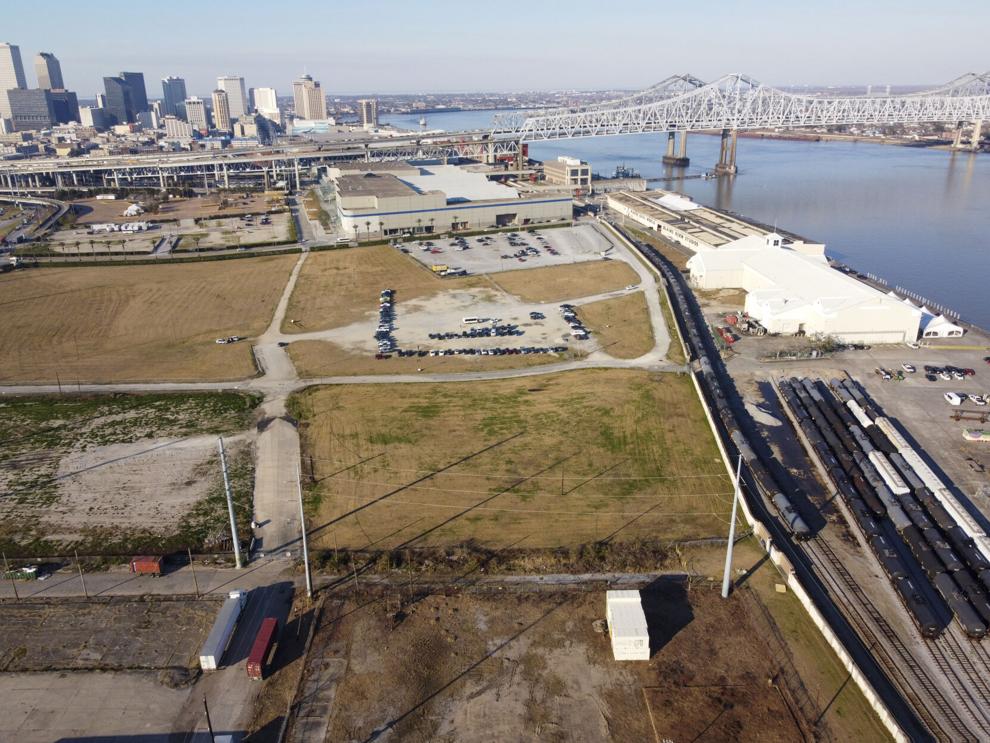 Sawaya also told the board on Wednesday that he would push to revive plans to build a large hotel on a site immediately adjacent to the upriver end of the convention center. Previously approved plans for a 1,200-room hotel were shelved because of the COVID-19 pandemic, though the board okayed a study last year of a scaled-back version.
Tom Hazinski, managing director of HVS Convention, Sports & Entertainment Facilities Consulting, has recommended that the convention center build a 600-room hotel and parking garage on the site with the potential to increase that to 800 rooms at a later date.
Sawaya said that data from HVS and other sources show that the hotel and convention business has rebounded much more rapidly than previously expected and is on track to be back to pre-pandemic levels by next year.
Looking forward to the ribbon cutting
The board also heard on Wednesday that there had been progress on the long-delayed Civil Rights Museum.
The River District project had set aside 40,000 square feet for the museum, but it stalled in discussions between the advisory board organizing the effort and Lieutenant Governor Billy Nungesser, who oversees the state's museums.
As a temporary measure, it has been agreed that a civil rights exhibition will be housed in the convention center's Mosaic Room, which is just over 5,000 square feet, while work continues to develop a permanent site.
"We're all looking forward to the day when we can stand there at the ribbon cutting and say we made this happen," Sawaya said of a permanent Civil Rights Museum.